Noopy's Soaps are hand crafted with generous amounts of Emollient (skin softening) oils, &/or essential oils, plus a tiny amount of organic grapefruit seed extract (to help preserve, but it is also a powerful antioxidant).

Natural Handcrafted Bar Soaps. Goat Milk Soap, Oatmeal Soap, Cocoa Butter Soap with Goat Milk, Tea Tree Soap w/Lemon, Tea Tree w/Emollient Oil, Lavender Peppermint Soap, Other Scented Goat Milk Soaps, Lemon Pumice Soap, & Raw Black African Soap.



Want to buy soap in bulk? Go to the Wholesale Deals page.

Check Out the Cute Little Soaps You Can Use for a Baby or Wedding Shower as Favors!


​
(Note: Soap will shrink as it dries, so each bar may weigh a little less than the stated size.)
Natural Handmade Goat Milk Soap with or with no added dyes or fragrances. Has three skin softening emollient oils. Now with even more Premium Ingredients for a creamier lather! 5.5 oz. bars.
Ingredients: Coconut Oil, Other Vegetable Oils, Water, Goat Milk, Fragrance (if any), Avocado Oil, Apricot Kernel Oil, Grape Seed Oil, Skin Safe Coloring (if any)

​DON'T FORGET TO SCROLL ALL THE WAY DOWN THE PAGE!
​​
Natural Handmade Tea Tree Soap with Tea Tree essential oil & emollient oil. Also has grapefruit seed extract. Great for problem skin. Best for normal to dry skin.
5.5 oz. $4.49


Ingredients: Coconut Oil, Other Vegetable Oils, Water, Tea Tree Essential Oil, Apricot Kernel Oil, Grapefruit Seed Extract, & Brown Oxide Pigment for coloring
Natural Handmade Tea Tree Soap w/Lemon essential oils! This Tea Tree Soap has no emollient oils & is great for acne and other skin problems. Best for oily skin. Similar to my other Tea Tree except we added Lemon EO and took out the emollient oils. Has Grapefruit Seed Extract. 6 oz $4.49


Ingredients: Coconut Oil, Other Vegetable Oils, Water, Tea Tree & Lemon Essential Oils, Grapefruit Seed Extract, & Brown Oxide Pigment (for color).



Handmade Raw Black African Soap

approx. 6 oz
An amazing natural & pure soap made by African Tribe women in West Africa. 48% Unrefined Shea Butter. Many uses. Softens skin.


$4.99
Handmade Raw Black African Soap

approx. 5 oz
An amazing natural & pure soap made by African Tribe women in West Africa. 48% Unrefined Shea Butter. Many uses. Softens skin.


$4.29



Produced And Imported From Ghana



Handmade Raw African Black Soap

is produced from secret recipes in West African nations by various tribeswomen. Considered Africa's best-kept beauty secret for centuries, the benefits of African Black Soap are now widely known, prompting women and men across the planet to include it in their daily cleansing and beauty rituals.
Black soap has been known to alleviate rashes, scalp irritations, acne, blemishes, wrinkles and other problems while it softens skin. You can use this soap on your body, face, and hair.

Black soap gives your face a deep cleansing, leaving it fresh and healthier. It can also help with wrinkles and fine lines. Many people swear by this product, including myself!

For centuries, Ghanaians have used Black Soap to help relieve acne, oily skin, clear blemishes and various other skin issues. African Black soap has also been used to achieve beautiful skin. Africans have also used this natural soap for bathing and washing their hair. Great for removing make-up. Black Soap will leave your skin soft, clear and smelling delicious. This soap is not scented.

Storing your African Black Soap:

Pure traditional African black soap is a soft milled soap and has very high natural glycerin content. As a result, it readily absorbs moisture from the air. It must be stored in a dry location or in a sealed plastic bag or it will become soft as it absorbs moisture. Black soap exposed to the air will have a thin white colored film. This film is not mold it is caused by absorption of water from the air. This can be avoided by keeping the soap in a dry location away from moisture until ready for use.
This is 100% authentic African Black Soap imported directly from Africa. We do not make this soap, but have had so many requests for these bars that we located a supplier that receives these directly from customs and are now able to offer the smaller bars.
Description: In Africa, black soap is the only homemade soap used by mothers to wash their newborn babies as its purity makes it gentle and non-drying for their sensitive skin. This African Black Soap is produced in small batches by hand, using age-old traditional techniques. The authentic African Black Soap is handmade in Africa from pure virgin oils following fair trade and organic guidelines. The ingredients of the African Black Soap are Virgin Palm Kernel Oil & Palm Oil, Plantain Skins, Palm Leaves, Cocoa Pod Powder, potash produced from the ashes of Plantain Leaves and naturally occurring glycerin as a result of the soap making process. In addition, there are no chemicals added as preservatives, color enhancers, or fragrances and has a natural, earthy scent.

The ingredients that are usually used to make the black soap are roasted plantains, kernel oil, coconut oil, palm oil and cocoa pod ash. But not all batches of it are exactly the same. There are different recipes and the ingredients may vary a little bit.
ere to edit this text.
​

​
​All other Goat Milk Soap bars are
Price $4.49



Acqua di Gio (type)*

-A resolutely masculine fragrance born from the sea, the sun, the earth, and the breeze of a Mediterranean island. Transparent, aromatic, and woody in nature; a contemporary expression of masculinity, in an aura of marine notes, fruits, herbs, and woods. A sexy, fresh, aquatic aroma with bergamot, neroli, and tangerine; flowing into mid notes of rosemary, jasmine, and persimmon; all sitting on a woodsy base note of essential oil of patchouli. Oval Ivory/Gold in color. 5.5 oz Bar.​



Brown Sugar & Fig (type)*

- A magical, complex fragrance composed of top notes of Fresh figs, peaches, and passion fruit; followed by middle notes of coconut milk, vanilla orchid, jasmine, muguet, and freesia; well-balanced with base notes of vanilla beans, caramel, maple sugar, fig leaves, and musk. Rectangle-Slight Tan in color. 6 oz Bar.



Chocolate Amber (type)*

- This romantic fragrance oil engages the senses with a warm heart of sandalwood and patchouli that blends with jasmine blossoms. Rich undertones of musk are sweetened with precious amber and hints of vanilla. A lingering accent of cocoa bean creates a heady twist for the scent. Chocolate-Oval 5.5 oz Bar.



Coconut Lime Verbena (Type)*

- A luscious blend of juicy citrus fruits such as lemon & lime on a delicate heart of creamy coconut & fresh florals. Vanilla notes & sandalwood round out the blend. Smells just like the best selling Bath & Body Works* fragrance! Strong amazing scent! Green Oval 5.5 oz Bar.



Fresh Cut Roses

- A true, fresh-cut rose scent! Dark Pink-Oval 5.5 oz Bar.

Japanese Cherry Blossom (type)*-​​ A well-rounded blend of pink Japanese cherry blossoms & fragrant mimosa flower petals, with warm base notes of vanilla. Tonka bean & oriental woods.
Pink-Oval ​5.5 oz Bar



Lavender Sage (type)*

- This truly exotic fragrance captivates the soul. It's a perfect blend of garden sage, fresh basil leaves, and soft lavender. Compare our fragrance to the Yankee Candle fragrance. Purple-Rectangle 6 oz Bar.
​
​​

Patchouli

- The pungent aroma of the leaves. Pleasant scent. Has some essential oil added to it. Takes you back to the 60's & 70's! Phthalate Free

​​

Peppermint

- Icy cool peppermint. Fresh and minty and totally peppermint! Red or white/red depending on the batch. Rectangle 6 oz Bar.



Pink Sugar (Type)*

- Popular scent! Natures Garden's rendition of Pink Sugar Type. A fruity blend of cotton candy, lemon drops, caramel and raspberry jam on a dry down of musks. Oval-5.5 oz Bar.



Sweet Honeysuckle (type)*

- A beautifully enticing spring aroma of golden honeysuckle nectar. Compare to the Yankee Candle scent. 5.5 oz Oval Bar.



Sweet Pea (type)*

- A duplicate of the popular Bath & Body Works * fragrance. The purple flower with a delightful floral scent! I also make candle melts in this scent. Oval-Purple in color. 5.5 oz Bar.
​


Tahitian Waterfall (type)*-

Compare this scent to the fabric softener. Let our fragrance oil take you away with sweet jasmine, wild lilies and violets, with the enchanting mist of a cool tropical waterfall. You will be in Heaven! Blue/Green Oval 5.5 oz Bar.

​​

Twilight Woods* for Men

-

Precious woods and sensual amber are blended with soft mimosa, vanilla musk, apricot nectar and juicy berry. Very similar to the popular scent for men. Rectangle-Blue in color.



Vanilla Sandalwood (type)*

-A beautiful duplication of the Yankee* scent. The beautiful combination of luscious, rich vanilla, and earthy Indian sandalwood. OVAL BAR Light Tan w/swirls. 5.5 oz Bar.



Whispering Mist (type)*

- A delicate blend of orange nectar, star jasmine and violet. Compare to Victoria Secret's scent. Amazing! Green Oval 5.5 oz Bar.


Bonus!
You will receive 1 FREE
​1 oz Soy Wax Tart with every $20 you spend (excluding clearance & wholesale items, & before SH & Taxes)! My choice of scent. The tart(s) will automatically be sent with your order.
Discover why men & women alike love Black African Soap!




This is the only soap Noopy's does not make, yet it is handmade, organic, & all natural. Noopys buys, cuts, wraps, & labels this soap for resell.

Natural Old Fashioned Handmade Oatmeal Soap with goat's milk & emollient oils for soft skin. Great complexion soap. Wonderful for dry itchy skin. Hand Cut Bar 5.5 oz. $4.49


Ingredients: Coconut Oil, Other Vegetable Oils, Water, Goat Milk, Old Fashion Oats, Avocado Oil, Apricot Kernel Oil, Grape Seed Oil, Brown Pigment Oxide, Organic Grape Seed Extract.




Your Choice! Several Scents & Colors to Pick From.
Each Baby or Rose Cluster is just $1.49 Each!
They come as they are or wrapped adorably in cellophane w/a Ribbon tied at the top.​​ Each weighs approximately 1 oz.
If you choose Custom Order, you must email me to let me know which of my scents you would like and your color choice. Please see list of scents available on the Scented Soy Wax ​page. NOTE: I won't make a really
dark blue baby like the picture on the left unless requested.​
Noopy's 3-Butter Soaps are loaded with Cocoa Butter, Shea Butter, & Mango Butter. Coconut based. Your choice:
​
Eucalyptus Spearmint
​
Pink Grapefruit
​
Lavender-Peppermint w/Organic Essential Oils.

​​6 oz Bars. $4.49​​
Pumice Soap

for Feet & Hands. Great for heels, mechanics, crafters, gardeners, etc. Has skin softening emollients to keep skin from drying out. 4 oz Bars just $3.49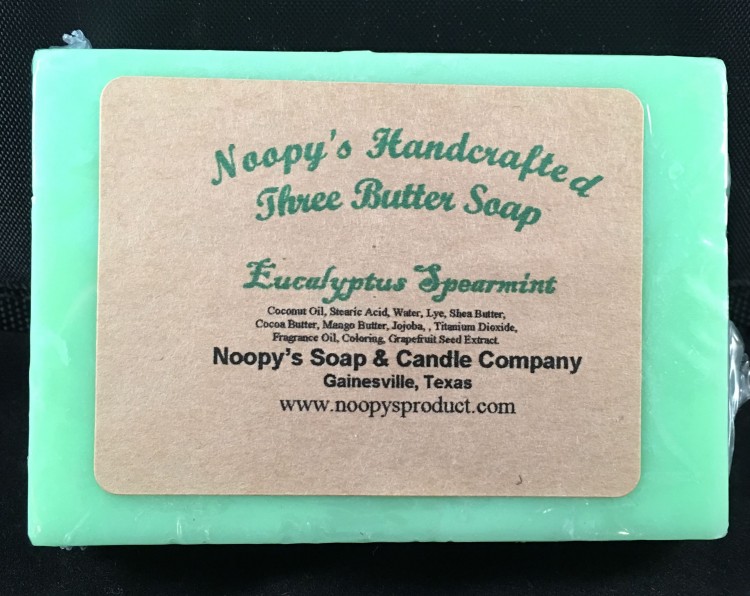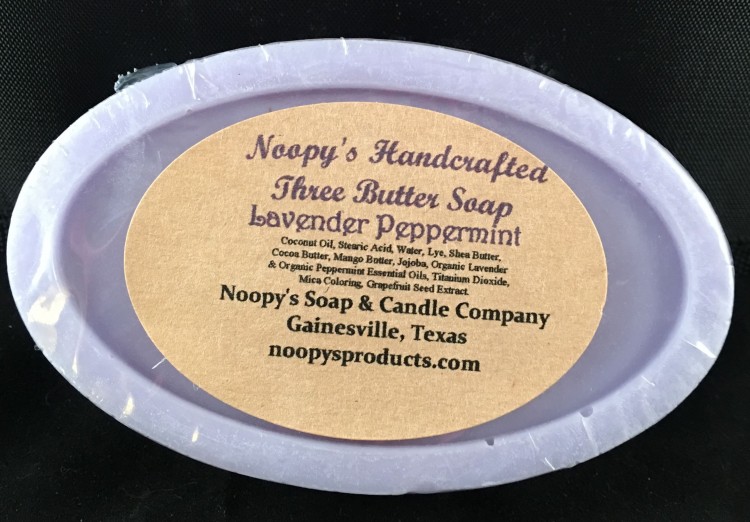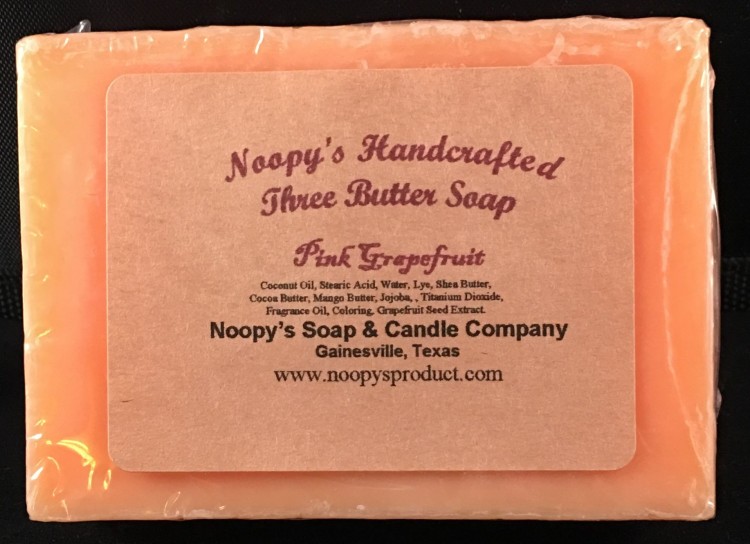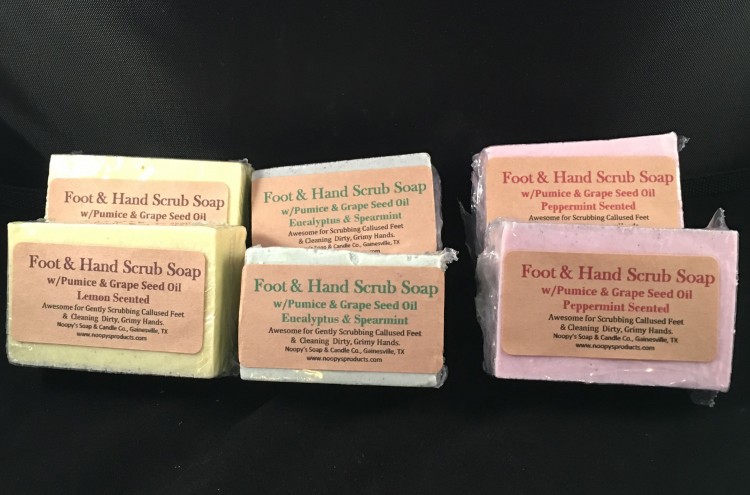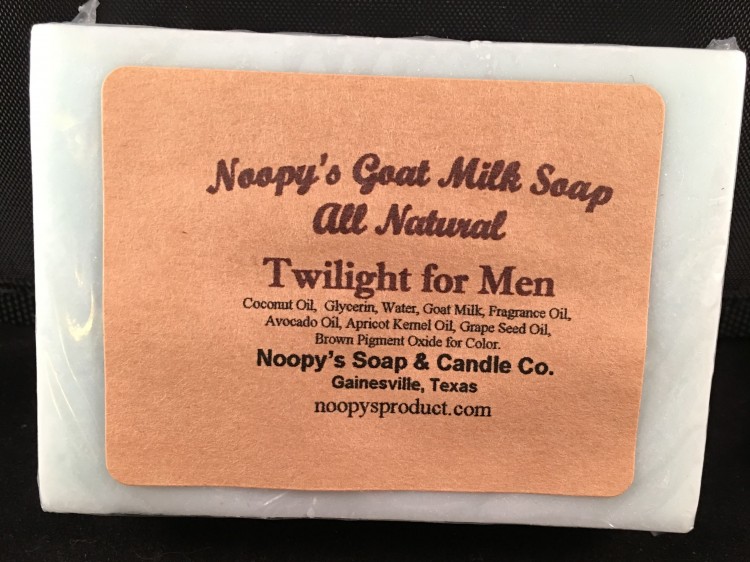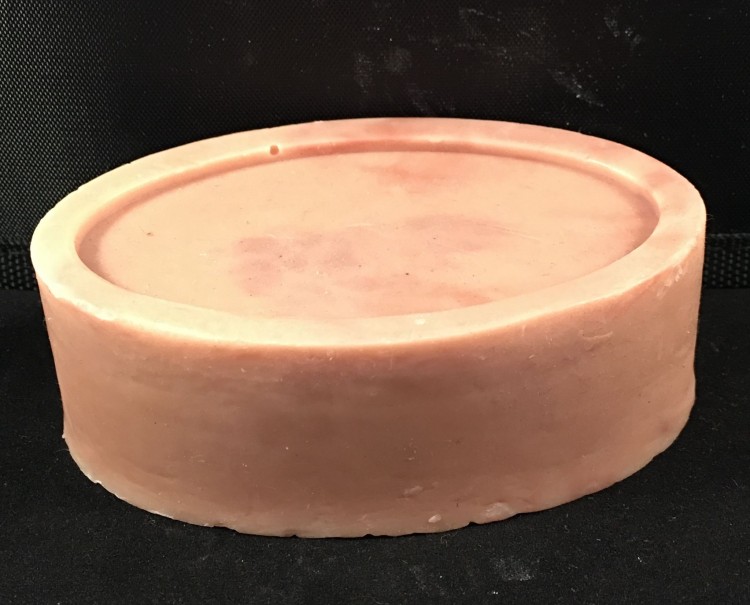 Natural White Goat Milk Soap
- No scent or dye. This bar is hand cut and weighs approximately 5 ounces. $3.99

​